This summer we were fortunate to work with Saltire Scholar* Catriona Taylor. Her objective over her 12 week internship with Crosswind Developments (the company behind Elements Edinburgh) was to research the social benefits of urban parks.
We've been sharing snippets of Catriona's research on our blog over the last 3 months, and now, we're ready to share her full report.
Like our blogs, the report is based on four main areas of research showing the potential impacts across a diverse range of people. Catriona looked at the impacts on inclusivity, education, health & wellbeing, and sustainable communities, interviewing leading experts in each field to gain insights into measuring the possible effects.
To read the whole report just click on the image below.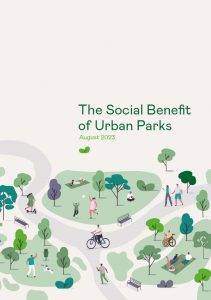 *The Saltire Scholar Programme is Entrepreneurial Scotland's flagship programme designed to find ambitious penultimate and final year undergraduate university students in Scotland with the potential of becoming future leaders.  
The programme puts students on a year-long transformational personal development journey, culminating in an 8-12 week fully funded summer internship with host companies from across the world. On this journey, students complete impactful commercial projects and experience personal development workshops. Through this, students develop their leadership potential and feel empowered to drive growth and impact as they navigate their future careers.