Can you imagine living in a neighbourhood where everything you could ever want, or need is only a 20-minute walk, wheel or cycle away from your doorstep? Elements Edinburgh is a proposed new housing and commercial development in the western expansion of the city. As well as providing affordable housing and exciting employment opportunities, including Scotland's first dedicated digital quarter, the community will be developed around the site's natural environment and feature luscious green and blue spaces for everyone to enjoy. The proposed West Edinburgh Park will not only serve the residents of the Elements neighbourhood, but also serve as a link between all communities to the west of the city. This blog series will pinpoint the many benefits the West Edinburgh Park and Elements Edinburgh would have for its residents, neighbours and visitors.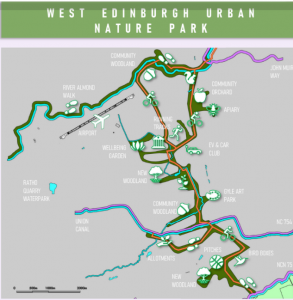 Inclusivity
Inclusivity is at the heart of both of these projects; the area will be a desirable and welcoming place open to all, regardless of your age, wealth, or abilities.  A city expansion with a village feel, Elements will be somewhere that progresses and develops alongside the community, meaning opportunities will always be waiting for you at every stage of your life. For example, the biodiversity of the West Edinburgh Park will act as an excellent education tool for children: with a natural "classroom" always available, the learning possibilities are truly endless! Children could learn about everything from the local biology and geography to using the natural surrounding materials to create art and music. Outdoor play areas would also encourage socialising between children as well as their parents or grandparents, creating intergenerational bonds. The park will include safe spaces for recreational activities for all ages, whether this is attending to a group allotment, taking part in sporting clubs or even just meeting up with friends, with all areas designed to support accessibility for all,  with no dark corners so everyone feels safe to have fun. In this scenic backdrop of the West Edinburgh Park every visitor will be able to expand their social network through trying new activities.
It is true to say that access to high quality green space is not always inclusive, as it is often found only in high income areas. As the West Edinburgh Park will serve as a connection between new and existing communities all with different socio demographic backgrounds , it will ensure everyone has safe access to green spaces. Currently, too many of the green blue spaces in Edinburgh are restricted to private use, but the West Edinburgh Park will be open to all without the barrier of locked gates. The park will be extremely easy to access for people coming from other areas within the city, country, or even further afield because of its excellent public transport connectivity.
Accessibility is also a vital aspect to ensure the park is inclusive for everyone who chooses to go there. The biodiverse setting offers visitors the chance to surround themselves in nature, experiencing all the sights and sounds that come with that. Dedicated sensory gardens will be one feature incorporated in the park so that everyone has the opportunity to explore their senses in a safe and stimulating environment. Gardens will feature a colourful mix of plants, objects and features that encourage everyone to touch, see, taste, hear and smell the wonderful surroundings, not only providing lots of people with the ability to relax, but also to learn something new about their environment. Similarly, there will also be dedicated quiet areas, for those who wish to engage their senses, relax, or just bask in the beauty of nature. It goes without saying that the park's pathways, playgrounds and signposting are safe and accessible for all, with tactile paving, braille, wide walkways and ramps, as well as playground equipment at varying heights, truly allowing it to be a destination where everyone can enjoy the nature it offers.
The inclusivity of the West Edinburgh Park would benefit many individuals from all walks of life. For example, Ruth is a 84 year old who currently lives alone and has limited mobility, and often relies on using a walker or wheelchair to get around. Unfortunately she is now of an age that maintaining her own green space is not practical, and she doesn't have easy access to green space where she currently lives  therefore has to  rely on a family member driving her to somewhere further away so she can get something many of us take for granted – easy access to enjoying the outdoors. The West Edinburgh Park would allow Ruth to enjoy green blue space within metres of her home and navigate the entirety of the 15km park as all pathways would be suitable for her needs. Overall, the inclusivity and accessibility of the West Edinburgh Park will actually be used to improve people's lives, giving them easy access to nature – a basic human right – and allowing everyone to enjoy what it has to offer.
A bit about me – I'm Catriona and I am a recent graduate of the University of Dundee. This summer, as part of Entrepreneurial Scotland's Saltire Scholar programme I am working here at Crosswind Developments as a research intern, looking into the many social benefits that the West Edinburgh Park would provide for residents of Elements Edinburgh and surrounding developments. I feel really honoured to be a small part of something that could be so impactful for not only the future population of Edinburgh, but all of Scotland.